Tasmania is the smallest and most southern state in Australia. Despite its small size it has a strong orienteering community and many world class maps. It's a popular tourist destination and is famous for its gourmet food, World Heritage wilderness and outdoor activities such as hiking, sailing and mountain biking. It has a temperate climate and is somewhat cooler than the rest of Australia in the summer months – average maximums range from around 23-25 C (73 – 77 F) – making it an ideal place to train, race and relax.
Tasmania has hosted two World Cup orienteering events – in 1988 and more recently in 2015 – and we're currently preparing to host the Oceania championships in January 2023. We've had numerous WOC and JWOC team members and can even boast a world champion, Hanny Allston, who in 2006 won the long distance race at JWOC and the sprint distance race at WOC. Our National Orienteering League team is called the Foresters.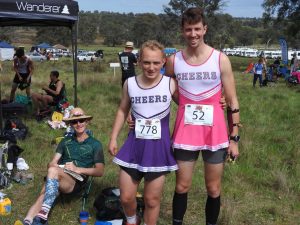 We have a strong junior development program, which has been supported in recent years by our coaches-in-residence. So far, we have hosted nine coaches – five in the south of the state and four in the north. One of them loved Tasmania so much, he came back for a second residency!
Our terrain ranges from urban parkland to complex granite, sand dune and mining. Many of our best maps are based on the East Coast, but we have a number of great areas closer to the big urban centres of Hobart and Launceston.
We are looking for two orienteers to work with us. One will be based in the south in the capital city Hobart (population 200,000). The other will be based in the north in Launceston (population 100,000). Both are beautiful cities. You can expect to be working in schools, with our development squads of juniors and running training exercises for orienteers of all ages. If based in the north, you might also be asked to help out in our development areas on the Northwest Coast. There may be a chance to earn some extra money working in our schools program or with mapping.
This year, we are looking for coaches over our summer period (September/October 2022 to March/April 2023). Start and end dates for the residency are negotiable, and we will consider shorter stays.
You will be staying with local orienteering families who will provide your food and accommodation. You will need to drive to carry out your duties so you must hold a full driver's licence and be confident driving on the left hand side of the road!
Please check out our website or contact our Director of Performance Ali Stubbs for more information. Email can be found on the Orienteering Tasmania Contact Us page.
---