NT – Northern Territory – Darwin, Alice Springs
In Darwin it is warm all year. The day time temperature is always near or above 30 degrees Celsius. The best time of year to visit is between May and September, because it is hot and dry – not hot and humid!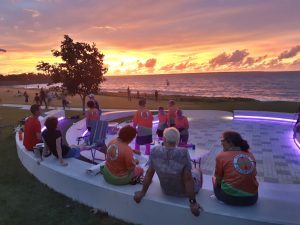 Darwin is famous for having a laid back feel, with an outdoors culture. There are many markets, festivals and community events. Many international tourists come to visit the Northern Territory to learn about Indigenous culture, and to visit our famous national parks like Kakadu and Uluru Kata-Tjuta.
There is one orienteering club in Darwin, which holds one or two orienteering events each month. These events attract around 100 participants, and there are often new people coming to try orienteering. The club always needs help with coaching and teaching orienteering, both to the public at weekend events and in schools during the week.
We would be happy for you to visit for just one month or two, as part of your Australia travel. We have funding for 2 – 3 months of a full time mapping position. We are making maps in areas of simple bush, park and urban streets. The mapping work can be split into smaller time periods which you could fit in around your scholar work in other states. In addition to this mapping work we have some funding for coaching activities and installing permanent courses.
Scholars will stay with local orienteering families and access to a car can be arranged. You do not need to buy one for your time in Darwin.
Please consider visiting Darwin! Sometimes we are forgotten about because we are so far away. If you are already coming to Australia, the club will pay for your return flight to get here, from another Australian city.
You can visit the Orienteering NT webpage here: Top End Orienteers
---