VIC – Victoria – Melbourne, Ballarat, Bendigo, Wodonga
In Victoria we are very lucky to have an amazing variety of orienteering terrain. The Ballarat region is famous for its complex gold mining maps used for previous World Cups, the Bendigo area has great spur gully maps, gold mining and the four terrific granite areas used for WOC in 1985 and many Australian and Oceania championships since. We also have a growing list of sprint maps, and every year in March we run the famous 'Melbourne Sprints' which attracts competitors from around Australia.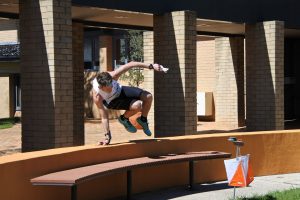 Victorian orienteers range from recreational to super competitive, and we have many keen junior and senior elites, including a JWOC sprint champion! Our National League team is the Victorian Vikings. The Melbourne orienteering scene runs all year with park and street races, a sprint series in the spring and forest program throughout our winter.
Melbourne is known as Australia's sports capital with sports like cricket, tennis and Formula 1 attracting competitors from around the world. And of course there's the Australian Rules football! Melbourne has been voted the world most liveable city many times, with many parks, gardens, bicycle paths and great public transport.
We have hosted many coaches in residence in the past, and are keen to hear from you if you are interested in a six-month stay from spring to autumn. You will be hosted by orienteering families in one of our major cities – Melbourne, Ballarat or Bendigo – and you will need to have experience in coaching, mapping and teaching orienteering.
You can visit the Orienteering Vic webpage here: Orienteering Victoria
---